We have a wide range of touring options. Click here to find out more…
We have a range of caravans and lodges for sale. Click here to find out more…
We offer 46 boat moorings, with a combination of riverside and marina berths. Click here to find out more…
Welcome to Knightsbridge Caravan & Marina Park
Knightsbridge Caravan and Marina Park is under new ownership formerly known as Floods Ferry Marina Park.
Open for 12 months of the year and we are now a family friendly park.
We are excited to offer new and existing customers quality and good value for money
Your own riverside holiday bolthole away from it all. Kick back, relax and enjoy your favourite pastimes.
'your quiet, tranquil haven in the countryside'.
The caravan and marina park is very safe, with electric security gates to the entrance. It is located along the River Nene Old Course, part of the Middle Level or Fenland Waterways making it the ideal location for touring caravans, camping and fishing. We are surrounded by farm fields & big skies with stunning sunset and sunrise views. The Hereward way runs along the riverbank opposite the park and is wonderful for dog walking and nature watching. The market town of March in Cambridgeshire is about three and a half miles away which is very convenient for a variety of shops and supermarkets. There are places to eat out and the local takeaways and supermarkets deliver to the entrance of the park.
We hope you find all the information you would like about our holiday park & marina
If you would like any further information please contact us.
Thank you for your interest in our 'David Bellamy GOLD and SPECIAL DISTINCTION award winning park' and for visiting this website.
Pitch Annual Ground Rent:
£4,195   Static Caravans
£4,235   Lodges
Touring Pitches per night
£25 (1st March to 21st July)
£30 (22rd July to 4th September)
£25 (5th September to 28th February)
Our prices include electric, awning and upto 2 dogs
Long term/seasonal, touring pitch, riverside, ground rent:  £2,374.40 per year
Narrowboat mooring berth: £32 per foot per year
Minimum charge is 55 ft
Cruiser boat mooring (narrow beam): £1060 per year
Th £1060 is based on a minimum boat charge for up to 25 ft, boats over 25 ft are to be charged at £32 per foot on top of the £1060
(with the exception of narrow and wide beam boats that are charged at a minimum of 55 ft )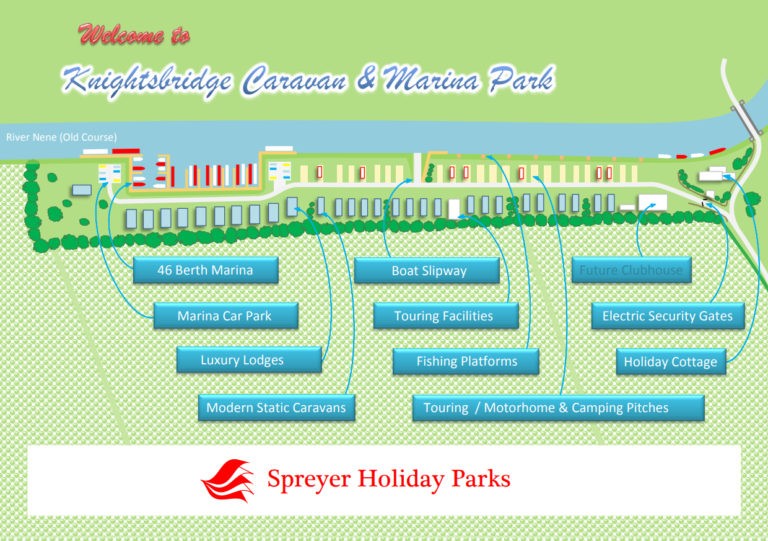 With nice views, food, drinks, BBQ places , boating activities ,parks and parking a very nice place to spend a day out with family and friends.
Great place to moor, long-term moorings, relaxing and good security.
"Absolutely beautiful, the place to go for peace, quiet and a good nights sleep!"
"This is one of the best sites I have visited. Well worth a visit."
This is a tranquil park by the river, very tidy cared for marina with caravan park and touring site. Lovely owners.
Loved the place it's nice and quite and tranquil. Private property though.